E.T.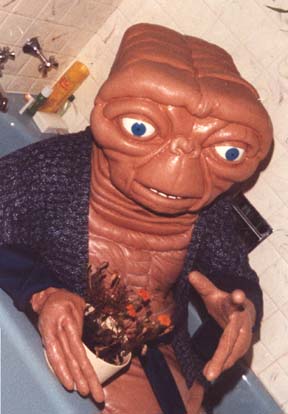 E.T. Costume. This was a claustrophobic one, but that story will have to wait till after I put some more images in.
Are you Thinking of making an E.T. costume for yourself or your child? (I have had several inquiries lately...)
Well my E.T. costume is long gone, but I recall a McCall pattern for a cloth costume with an ET's mask, although I have not seen it for many years, keep an eye on eBay.
If you are handy with a sewing machine that might be worth investigating.

Other than that I have only seen a cheesy rubber and plastic ET Masks, but I do not have either. NOTE: I do not recommend RUBBER masks for younger kids, they have a tendency to get overheated, especially when consuming candy. And once again eBay to the rescue:

Hope this information helps, and you end up making a costume, please send me a photo of you or your little extra-terrestrial. Best of luck!!


MORE Detail LATER if I ever get the time.



by Earl B.
Back to the Halloween Masks and Costumes Page!