Borg from "Star Trek: Next Generation"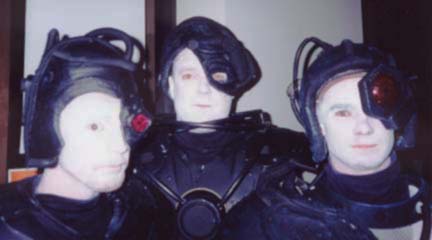 Earl, Tom & Joe (one of ten, two of ten, and three of ten)
Resistance was Futile. Here is the Before and after Assimilation shots. These three Borg actually had to work this year at the Bump! Chicken Soup Brigade Hosted the first Bump at the Seattle International Trade Center with the fabulous Weather ("It's Raining Men") Girls. Unfortuantely, these cyborgs spent the night assimilating tickets and greeting aliens; no wonder our eyes look distant.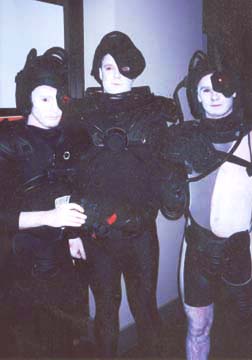 We each made our own borg head pieces. Mine and Tom's eye pieces were cast off little clay sculptures, and Joe's (right) was a flashing LED toy eye. They eye pieces were then hot glued (I have the scar to prove it) to kids' Helmets. Tubes, wires and even an egg slicer were added for detail and black spray paint. White latex paint finished the Borg look.
The costumes were tight fitting black garments adorned with black painted athletic padding with those pesky tubes. It was a fun project, but as usual, we wished we had had more time. I guess it was kind of a warm up for the next year's Bump with the T-Rex.
by Earl B.
Back to the Halloween Masks and Costumes Page!